Near-infrared photons: a non-invasive probe for studying bone blood flow regulation in humans
Journal of Physiological Anthropology
An official journal of the Japan Society of Physiological Anthropology (JSPA)
2015
34:28
Received: 1 October 2014
Accepted: 22 June 2015
Published: 25 July 2015
Abstract
The study of bone blood flow regulation in humans has always represented a difficult task for the clinician and the researcher. Classical measurement techniques imply the presence of ionizing radiation or contrast agents, or they are slow or cannot be repeated too often in time. In the present review, we would like to give a perspective on how the optical approach might overcome some of these problems and give unique solutions to the study of bone blood flow regulation. We hope that the present contribution will encourage the scientific community to put a greater attention on this approach.
Keywords
Bone blood flow regulationHumanBone neurovascular systemBlood volume regulationNear infrared lightBiophotonics
Introduction
The study of bone blood flow regulation in humans has always been a challenging topic. In fact, known techniques allowing the monitoring of blood flow appear to be invasive (e.g., utilization of ionizing radiation or contrast agents) or do not permit fast measurements (e.g., to follow blood flow pulsations) over repeated or long periods of time. Moreover, these techniques are often very expensive and cannot be used at the patient bedside [1–4]. In this frame, optical technologies, based on near infrared light, might represent a unique solution allowing to surmount some of the these difficulties and open the possibility to approach from a new angle the study of blood flow regulation in bone.
Light in the 650- to 950-nm range has the singular property to deeply penetrate biological tissues such as brain, muscle, fat, or bone. Moreover, due to the phenomenon of diffusion, light propagates in all directions, and then, it is re-emitted also from the same surface where it is injected. Photons composing this light interact in various ways with living tissues, and when detected, they carry information about blood flow and other parameters related to it. In the following sections, we will explain, by reporting the related scientific literature, how non-invasive and contrast-agent free optical techniques can be exploited to investigate the regulatory mechanisms of the bone neurovascular system in humans.
The optical instrumentation
For the present purposes, all the instrumentation of interest can be intuitively seen as a clever combination of a light source and a photodetector. The light is usually transported to the tissue by an optical fiber in contact with the skin. The light diffuses into the underlying tissue and is collected a few centimeters apart from the injection point by a second optical fiber (or a bundle of optical fibers), which delivers it to a photodetector. Thus, the optical fibers need not to be inserted in the probed tissues, but they lie gently, normal to the skin surface. It is common to say that, as a first approximation, the region of interest investigated by these instruments has a "banana" shape; the extremities of the "banana" being localized on the two fibers tips (see Fig.
1
). Obviously, other geometrical configurations can be chosen depending on the experimental purposes. However, considering that all the literature cited in the present mini-review adopt a "banana"-shaped configuration, other geometries will not be treated. From Fig.
1
, one can intuitively observe that the larger is the inter-fibers spacing, the deeper the light will penetrate and thus deeper tissues will be monitored (e.g., bone under the skin/fat layers). This allows, e.g., to obtain "mean" penetration depths of 1–2 cm (the maximum depth is larger). By choosing different types/combinations of light source(s) and detector(s), different optical instruments allowing to investigate various bone blood flow related parameters may be created. Light sources may be for example light emitting diodes (LED), continuous wave (CW) or pulsed lasers, or white light emitting bulbs. Photodetectors may be, for example, avalanche photodetectors, photomultipliers, or single-photon detectors. Coming back to the penetration depth issue, it is worth to note that large inter-fibers spacing requires more powerful sources and/or sensitive detectors. Thus, independently of the chosen approach, different mean depths may be reached, also depending on the quality of the source/detector hardware that has been employed for the actual implementation. Finally, from Fig.
1
, one can infer that in general, due to the presence of the optical fibers, we are dealing with a "contact" (but non-invasive) instrumentation, investigating large tissue volumes. All the optical techniques presented in this review are contrast-agent free.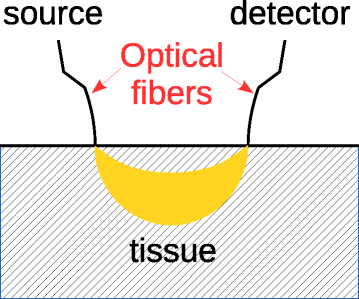 Table
1
reports the summary of the typical optical instrumentation, with the main technical characteristics, that will be considered in the following sections. In Table
1
are also reported the main physiological parameters measured by the different instruments.
Table 1
Optical instruments utilized to investigate bone blood flow in humans
| Instrument name | Possible source types | Possible number of light wavelengths | Light source intensity | Detected parameters for light (possible detector types) | Measured physiological parameters |
| --- | --- | --- | --- | --- | --- |
| PPG [32] | LED | 1 | Constant | Intensity (PMT, APD) | ΔBF (a.u.) |
| NIRS [33] | LED, CW laser, white light | 1, 2, 3, …, to continuous | Constant | Intensity (PMT, APD) | Hb, HbO2, ΔHb, ΔHbO2, (a.u.) and %SO2 |
| DCS [34] | CW laser | 1 | Constant | Temporal correlation (SPD) | BF (cm2 s −1) |
| IMS [35] | IM laser | 2, 3, … | Sinusoidal modulation | Intensity and intensity phase shifts (PMT, APD) | Hb, HbO2, (μM) and %SO2 |
| TRS [36] | Pulsed laser | 2, 3, … | Pulsed | Photon DTOF (SPD) | Hb, HbO2, (μM) and %SO2 |
| LDF [37] | CW laser | 1 | Constant | Doppler frequency shift (PMT, APD, SPD) | BF, BS, #rbc (a.u.) |
The aim of the present contribution is to show to a non-technical reader the potentialities of the different optical instrumentation when applied to the study of human bone blood flow. For this reason, we will not discuss technical or theoretical advantages/problems related to the different approaches, because this is out of scope. The reader interested on a more technical side of this presentation can refer to specialized literature [5, 6].
Investigations on bone blood flow by the optical approach
For this section, an organization per instrument has been conceived, emphasizing what the different optical techniques can actually measure, in the framework of human bone blood flow investigations. As a matter of fact, the specific parameters of interest for the investigator directly depend on the type of optical instrument. We think that this approach is closer to the real needs of the experimenter or the clinicians that first of all wants to know what it is possible or not to measure with the optical approach, without being lost in technical details or often confusing chronological history.
Perspectives and conclusions
Compared to sophisticated imaging techniques such as MRI, PET, CT, etc, the use of NIRS, TRS, PPG, IMS, DCS, and LDF may seem very simplified approaches to the study of bone blood flow. Actually, this is a misleading point of view. Optical techniques have unique characteristics that might allow original investigations on bone blood flow regulation in humans. In fact, we must not forget that these techniques are portable, have imaging capabilities, and can be used in special environments such as during water immersion [25], in flight simulators [26], in hyperbaric chambers [27, 28], during high altitude hiking [29], in microgravity, or during parabolic flights [29, 30]. Moreover, the non-invasiveness of the approach allows us to study the bone neurovascular system without the unwanted influence of, e.g., the mental stress that might modulate the activity of the autonomous nervous system and thus potentially bias the experimental results [31]. The large spectrum of sampling rates (from fraction of second to seconds, depending on the specific implementation of a given hardware), acquisition times (from a fraction of second to hours), and the repeatability of the measurements, without incurring in potential risks determined by ionizing radiation and/or contrast agents allow exploiting optical techniques for both functional studies and monitoring purposes, enabling the conception of new investigations considered impossible until now for ethical reasons. The follow-up of acute or long term effects induced by pharmaceutical products modulating bone blood flow might also represent an interesting application.
It is difficult at this stage to decide which is the better optical technique. This question has not yet been completely answered by the scientific community. Probably, the best choice still depends on the precise experimental goal. For example, if very fast acquisition rates are needed, and only changes in BF values suffice, probably the PPG technique is superior compared to LDF or DCS. If absolute (a.u.) BF values are required, then LDF or DCS may represent the best choice. However, depending on the future technical improvements in the hardware components composing these instruments, this situation may rapidly change.
To shortly highlight some pros and cons of the proposed modalities in terms of their capability to assess bone blood flow, one can say for example that LDF or DCS are the only techniques allowing to directly obtain this parameter. PPG has the advantage of the high acquisition speed, but it can detect only changes in blood flow, and the mechanism of detection has not yet been fully clarified (living an open question on the linearity of the instrument response). NIRS, TRS, and IMS give only indirect information on blood flow, but they have the advantage to give other important physiological parameters (linked to blood flow) such as %SO2. However, in terms of explicit bone blood flow monitoring, NIRS, TRS, and IMS are probably the less suitable approaches.
Thus, besides the obvious potential utilization of the optical techniques for clinical purposes, the aim of the present review is to encourage orthopedists and scientist to exploit this new possibility to deepen the knowledge on bone blood flow regulation mechanisms in humans. A topic that certainly deserves the attention of the scientific and medical community.
In conclusion, the large spectrum of applications in the domain of human bone blood flow regulation, made possible by the advent of the optical techniques, potentially opens a new domain of study in physiological anthropology. In fact, nutrition, fitness, aging, sex, and growing are all parameters that may influence human bone blood flow. The access to low-cost, portable, and non-invasive optical techniques may represent in this sense a new powerful tool allowing large scale screenings and a better comprehension of long/short term bone blood flow regulation and its adaptability to human modern environment.
Authors' Affiliations
(1)
Département de Neurosciences Fondamentales, University of Geneva, Geneva, Switzerland
(2)
Département de l'Imagerie et des Sciences de l'Information Médicale, University Hospital, Geneva, Switzerland
(3)
Istituto di Fotonica e Nanotecnologie, Consiglio Nazionale delle Ricerche, Milano, Italy
Copyright
© Binzoni and Spinelli; licensee BioMed Central Ltd. 2015